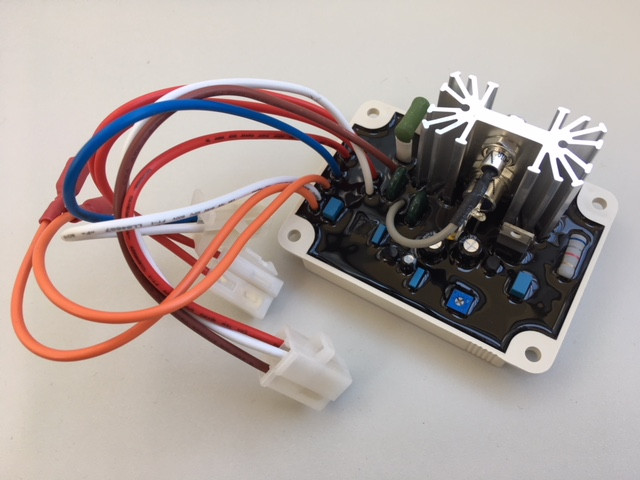 SP POWERWORLD EW05
Automatic Voltage Regulator for Welder Generators
The EW05 is a self excited type genset voltage regulator and is a compatible replacement for Sawafuji welder generator regulators, Suzuki CCW-210 / CCW-190H regulator, Honda EW-190S regulator, Daishin SGW-200HX regulator and KATYU SCW-190X regulator.
Ex stock - shipped Worldwide. For GBP, EURO or USD pricing please contact us:
Sales: james.daff@sp-powerworld.com
Office: info@sp-powerworld.com
Tel: +44 (0)115 923 2568 (United Kingdom)
Tel: (24-hour) +44 (0)7484709956 (United Kingdom)
*All manufacturer names, numbers, symbols and descriptions are used for reference purpose only and do not imply that any part is the product of these manufacturer.
Features
For Use In 50/60 Hz Brushless Generators
Single Phase Sensing, Same As Original
External Welding Current Adjustment
External AC Voltage Adjustment
Provides Regulation For Welder & AC Output
Automatic Welder Current Compensation
Compatible with Original Modules
Specifications
Model NO.
EW05
Power Input
Voltage 90~130 VAC 1 phase 2 wire 50/60 Hz
Output
Voltage 45 VDC
Current Continuous 5A, Intermittent 15A for 10 sec.
Current Adjustment
Welding current 50~190A
Current Compensation
Automatic welder current compensation
Voltage Build-up
Residual voltage at AVR Terminal > 2 VAC
Thermal Drift
0.05% per °C change in AVR ambient
Environment
Operating Temperature : -40~70 °C
Storage Temperature : -40~85 °C
Relative Humidity : Maximum 90%
Vibration : 1.5G @ 5~30 Hz , 5.0G @ 30~500 KHz
Dimensions
104.0 (L) x 75.0 (W) x 48.0 (H) mm
Weight
224 g ±2%
*Note : All features & specifications subject to change without notice.
Dimensions