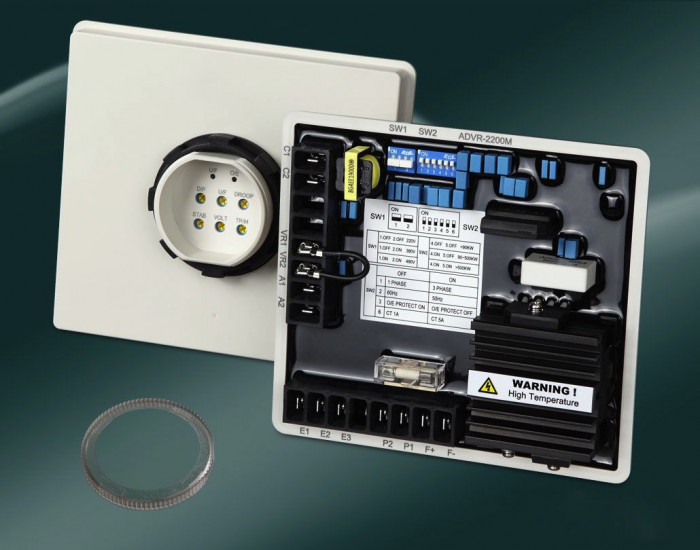 SP POWERWORLD ADVR-2200M
The ADVR-2200M hybrid Analog/Digital AVR is fully Compatible with Marathon DVR-2000 Series. This Voltage Regulator can be used on single/three phase sensing and Shunt/PMG/Aux.Winding. It has PF (power factor) correction inputs and the facility for droop CT connection.
Ex stock - shipped Worldwide. For GBP, EURO or USD pricing please contact us:
Sales: james.daff@sp-powerworld.com
Office: info@sp-powerworld.com
Tel: +44 (0)115 923 2568 (United Kingdom)
Tel: (24-hour) +44 (0)7484709956 (United Kingdom)
*All manufacturer names, numbers, symbols and descriptions are used for reference purpose only and do not imply that any part is the product of these manufacturer.
Features
Power input single phase 100 ~ 300 Vac @ 50 ~ 500 Hz
Sensing input 1 or 3 phase 180 ~ 660 Vac programmable
Voltage regulation < ± 0.5%
50 / 60 Hz selectable
Multiple power input source SHUNT, AUX, HARMONIC, PMG
Inverse-time over excitation & under frequency protection
Soft start voltage ramping
Built-in high capacity protection fuse
Panel mounted, internal wiring external adjustment
Specifications
* Sensing Input Voltage 180 ~ 660 Vac 1 or 3 phase selectable
* Frequency 50 / 60 Hz selectable
* Power Input Voltage 100 ~ 300 Vac single phase
* Frequency 50 / 60 Hz
* Output Voltage Max. 125 Vdc @ power input 220 Vac
* Current Continuous 5A, Intermittent 7A for 10 sec.
* Resistance ≧ 13 ohms @ power input 110 Vac
≧ 25 ohms @ power input 220 Vac
* Burden in Shunt & PMG Wiring 550 VA @ power input 110 Vac - 1100 VA @ power input 220 Vac
* Volts Regulation * Build Up Voltage Residual volts at AVR terminal > 6 Vac
* Quadrature Droop Input CT 1A / 5A Max. ± 7% @ P.F ± 0.7
* Over Excitation Protection Inverse-time 125 ± 5 Vdc @ power input 220 Vac
* External Volts Adjustment 5% 500 ohms 1 watt potentiometer 10% 1000 ohms 1 watt potentiometer
* Unit Power Dissipation Max. 12 watts
* Soft Start Ramp Time 4 sec.
* EMI Suppression Internal EMI filtering
* Thermal Drift 0.03% per °C change in AVR ambient
* Analogue Input Un 0 ~ 25% @ 0 ~ 10 Vdc or ± 5 Vdc
* Under Frequency Protection (Factory Knee Point Setting) 50 Hz system presets knee point at 47 Hz 60 Hz system presets knee point at 57 Hz
* Environment Operation Temperature -40 ~ 70 °C
* Storage Temperature -40 ~ 85 °C
* Relative Humidity Max. 95%
* Vibration 3G @ 100 ~ 2K Hz
* AVR Controls Function VOLT : Voltage adjustment
* STAB : Stability adjustment
* U/F : Setting under frequency protection knee point
* DROOP : Droop adjustment
* TRIM : Analogue input adjustment
* DIP : Voltage droop ratio setting
* O/E LED : Over excitation protection indicator
* U/F LED : Under frequency protection indicator
* Mechanical Specifications 150.0 (L) x 135.0 (W) x 55.5 (H) mm
* Weight 470 g ± 2%
Dimensions